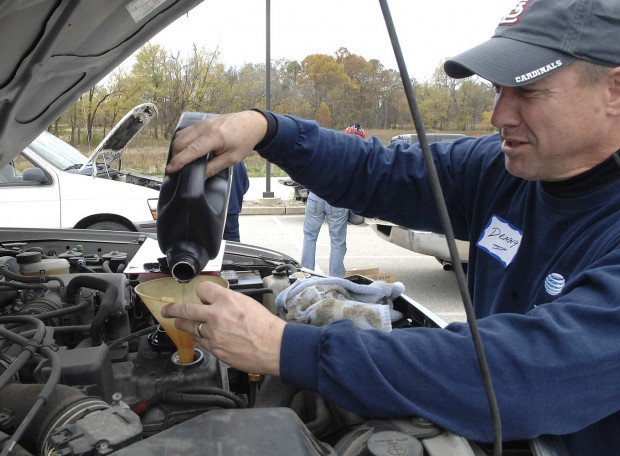 Source: Roy Sykes, St Charles Co. Suburban Journal Volunteer
Denny Wheeler tops off the crankcase of a car Saturday at Calvary Church in Wentzville, where about 40 people received free oil changes or help with other minor issues. Most of the oil and air filters were donated by manufacturers.
That's what members of three Calvary churches in St. Charles County are doing for families, particularly single women with children, so they have reliable transportation to a job, school or just to get around.
On Saturday, church volunteers provided 40 oil changes and other car repairs at Calvary's Wentzville campus, 2805 Dietrich Road. Another 100 or more oil changes are expected during a second church-sponsored event Oct. 27 at Calvary's main campus, 3998 Mid Rivers Mall Drive in St. Peters.
Volunteers have hoped to provide as many as 300 to 375 oil changes during the annual events at Calvary's three St. Charles County campuses (the other is in St. Charles) during the spring and fall. Appointments are required, and many women and families are referred to the event by local agencies.
"We're finding that for low-income families a significant barrier to employment is the lack of public or other transportation," said Brad Lambert, co-founder and executive director of Connections to Success, a St. Charles-based nonprofit organization that works to help people find employment.
Lambert, a member of Calvary Church, suggested that providing single women with children a chance to get a free oil change might go along way toward keeping their vehicles on the road.
"It's a simple thing that communities can do to make a difference," Lambert said.
Kim Krato and a few other church volunteers liked the idea. Krato, who Lambert credits with getting the idea off the ground, said last week she had to convince her husband, Matt, who works at a Firestone Auto Service store, to do the work.
"My husband hesitated and said, 'OK, we'll try it once,'" Krato said. "We've been doing it for five years."
The work is done on the church parking lots in a few hours by 40 to 70 volunteers. The oil change offers a chance to look under the hood to see if the vehicle has other problems.
"Some of the men say they can't believe the cars that roll in," Krato said. "Sometimes, once in a while, someone tells us about a car that can't leave the parking lot."
That additional help might involving fixing a belt, replacing a hose, brakes, or other minor repairs. Local companies are willing to donate small parts, but the church can't provide funding for major repairs.
Krato said the volunteers also look at the cars closely to point out areas that need repairs to pass state vehicle inspections. The information can help people get repairs long before an inspection. A vehicle failing a state inspection can mean the loss of a license and the use of a vehicle. "I've learned that things tend to snowball in life," Krato said.
Lambert said vehicle maintenance often isn't high on the priority list for people struggling to support a family. Many people who come to them don't know much about the importance of checking and changing the oil in a car, maintaining the proper tire pressure and other simple repairs. If the car still runs, they think that's good enough, he said.
"It often comes down to paying for getting an oil change or paying for food for the table," Lambert said. "If it comes down to that, you buy food."
Having a car break down can mean lost opportunities because even if people find work, they can't get to it regularly or can't go to school to get training or a proper education to qualify for employment, Krato said.
While some buses are available to seniors and others, there is no public transportation system within the county that could take people to jobs or school, Lambert said.
Lack of reliable transportation was cited by representatives of nonprofit agencies and community groups who met during a town hall forum Oct. 10 in Wentzville to discuss forming a coalition to deal with low-income and at-risk issues in that city.
"How do you pick yourself off the bottom if you can't go anywhere?" Krato said.
The free oil change also offers a chance for church members to come together and get to know each other.
Lambert said members often go beyond fixing a car and try to help individual families.
"We realize there are some women in situations that seem hopeless," Krato said. "We can pray with you, and we have information on other resources that are available."
Congregation members get a face-to-face perspective on poverty when they meet and talk with families who live it everyday, he said.
Many people think there isn't much poverty in a county that is reasonably affluent. "It's kind of like living in a bubble; everything is good and fine, and you're not seeing the people who aren't making it," Krato said.
"There are pockets of poverty all over St. Charles County," Lambert said. "You don't have to go to East St. Louis or St. Louis to find poor people. They are living it in the county. A lot of people are shocked by that."